Video Animation Design Malta
Animated video production can be a profitable form of content that people find interesting and engaging. Let our professional video animation services give your business a boost in brand awareness and ultimately ROI.
Animated videos use graphics and characters in a motion sequence designed to illustrate a concept or tell a story. At Creamy Animation we've been creating animated videos to explain complex concepts, promote brands, and deliver content with engaging animated graphics and characters.
TYPES OF ANIMATION
3D animation is the process of rendering and animating objects and characters in 3D with the help of special software and techniques. 3D animation means 3D. It is an animation method that has both horizontal, vertical and depth in the X, Y and Z axis.

2D animation is a simpler method of animation in the X and Y axis, where there is no third dimension. It is to animate products and services in the most creative way and turn them into videos by using vector and typographic elements with 2D technique.

Techniques used in 2D animation:
Motion Graphics: The image technique created by combining graphic design and animation in the right ways is called Motion Graphics. Motion Graphics is the result of combining photographs, drawings and videos in a composition and visualizing them with effects.

Infographic Animation: It is a type of video animation that offers impressive motion graphics in which the design is at the forefront. Infographic videos are designed in a way that your customers can understand your company, product and service in a short time.
Videos are so effective 
Did you know that 95% of viewers actually retain the message that they see in a video? If you are looking for a means of marketing your business that will really connect with people, then you should look into video marketing. Videos give your audience a better chance to remember your brand and message than static images or text do.
When making videos for your business, animations can be a great asset. Animations make messages and information easier to consume, and they also often help with the overall flow of the video. These short animations are perfect for illustrating a point regarding your product or the service you provide. The problem is that not everyone can create animations that look professional or fit within your branding guidelines.
That's where Vallettasoft can help you in creating professional videos with the right sort of animations to carry your message to your audience.
How Video Animation Services Can Help Your Business Grow
So, how can video animation services help your business grow? For starters, video is a really popular form of content.
Worldwide users view more than 1 billion hours worth of videos every day, and with over 5 billion daily views on YouTube, YouTube has become the second most popular website on the internet. Clearly, there is a desire among online users to consume video content.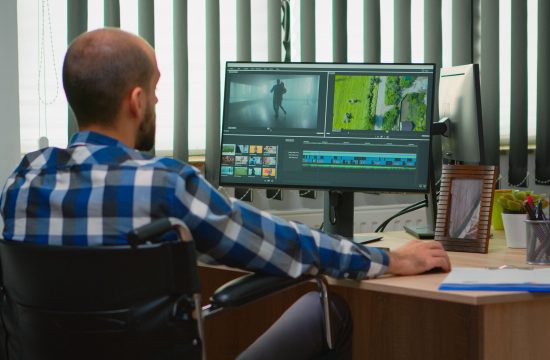 Many business owners make the mistake of focusing on what they sell, but when you address the needs of your target market, it will grab the right viewer's attention and encourage them to purchase.
We specifically use video animations for our clients because of its ability to cut through digital noise and achieve our clients' goals of increased ROI.
What's digital noise? Outside of the content your competitors are producing, the internet in general is filled with so much content. We just mentioned previously how there are billions of hours of video views every day. How is your content standing out?
Using videos to market your business has proven to be an effective tool to reach your target audience by the masses. Specifically, animations are a great addition to your videos to build brand recognition with such a vast viewing audience. With branded animations, people will begin to recognize right away if a video is from you.
So video animations can help you tap into a vast audience and increase your brand awareness, but how do they help with sales?
It's important to note that 90% of consumers claim that videos helped them in making the decision to make a purchase. Using video animations effectively can help you bridge that gap to turn social media followers, website visitors and others into paying customers.
So what do we mean when we say "effective" video animations? We mean videos that directly address a pain point or goal your target audience may have.
It's our job to produce a video for you that will cut through all the noise to A) get your ideal customer's attention and B) keep it long enough to make them an engaged viewer and ultimately a closed customer. Beyond just using videos, we've seen that animation video production is specifically a great way to accomplish those two goals.
One example that we see works well a lot is a whiteboard video animation. Whiteboard video services make amazing explainer videos. A whiteboard animation video is a form of animation that can convey a lot of information and be visually appealing at the same time.