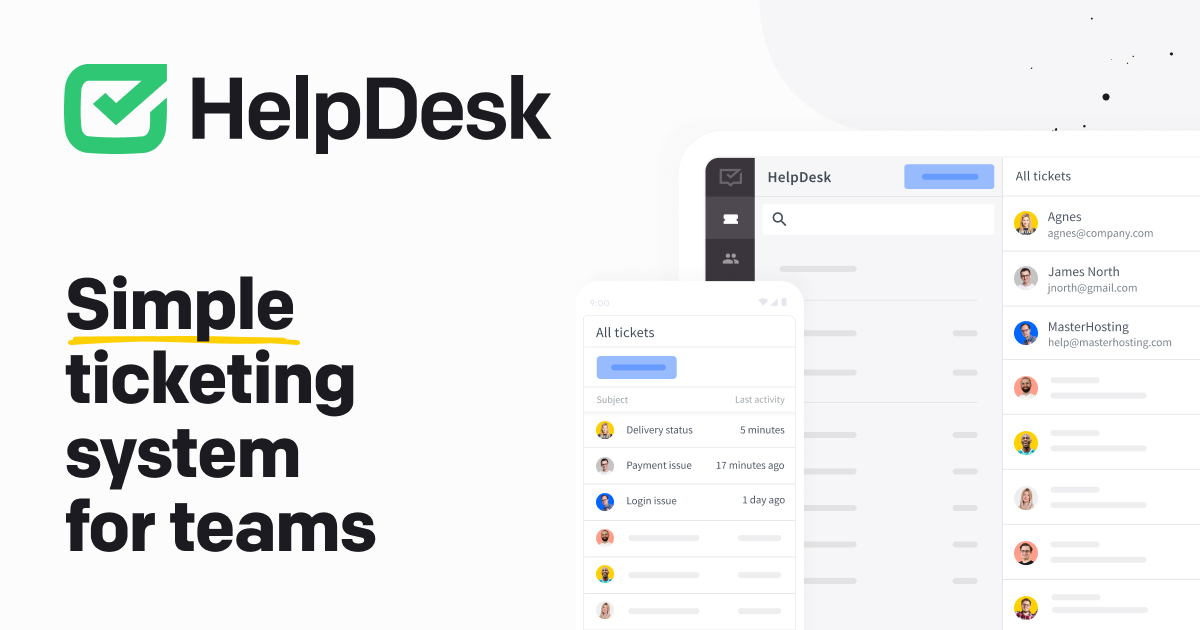 Welcome to VallettaSoft Ticket System Services!
Managing customer support and technical issues can be time-consuming and complex at times. With our ticketing system services, we will help you optimize processes and improve your customer service.
We have created a user-friendly and intuitive ticketing system to help you manage customer requests and technical issues. Our platform is easily adapted to fit your specific needs.
The service we provide has an advanced ticket routing platform, making sure that customer requests are communicated to the appropriate team or individual. To better respond to customer inquiries, our ticketing systems include automated features such as automated responses. 
We have implemented an analytics dashboard on our ticketing system to give you access to key metrics, Response time, Resolution time, and customer satisfaction insights, allowing you to see the impact of your support efforts and make decisions based on the data provided.
Email, live chat, and your current CRM platform are just a few of the platforms and applications that our ticket system integrates with. This integration enables seamless customer and team communication and ensures that all client demands are handled properly.
At VallettaSoft, we're dedicated to provide your company the best ticket system services possible. In addition to helping you set up and setup your ticket system, our team of professionals will also offer continuous support and training so you can make the most of your platform.
Stop wasting time and money on handling technological problems and customer assistance. With our extensive ticket system services, VallettaSoft can assist you in streamlining your customer care procedures and enhancing customer satisfaction. To discover more, contact us right away!
Why All companies need Ticket System?
Ticket systems play a vital role in helping businesses. The efficient management of numerous high volume customer assistance requests from diverse communication channels is an illustration of this. But many businesses continue to disregard this instrument for providing customer support. The primary cause of this is a lack of knowledge about what a ticket system actually is and how it may benefit a business. The blog post we created outlines some of the major help desk advantages you may anticipate to experience if you use a ticket system.
Advantages of Ticket System
Your service operations can operate at a basic level using email or other software solutions. However, they do not come close to matching the functionality and capabilities of a professional ticketing system. Here are the most important reasons why you should immediately adopt a task management system in your business;
Organize High-Volume Requests in a Centralized System
One of the most obvious advantages of the task management system is the ability to organize and catalog all incoming support inquiries. This is especially critical for businesses that have to deal with high volume demands. Not only does it enable agents to easily manage support cases; however, it also reduces the likelihood of some customer requests going unanswered. Also, because tickets can be prioritized, agents can determine which requests should be answered first. So they don't have to worry about solving all queries at once.
Combine Interactions into a Single Thread
Ticket systems are designed to work seamlessly with services through multi-channel communication in today's environment. If you offer support to your customers through different channels; ticketing software can help your team consolidate all customer communications into one unified thread. This means that your customers can use a preferred channel or even change channels in the process of resolving a problem. Also, interactions are always saved in the same place. All communication original tickets will be retained, even if the customer works with a different agent.
Maintain Customer Service Standards
Many ticket systems come with the ability to include Service Level Agreements. SLAs help establish clear expectations for customers; providing clarity on when they can expect to receive a response. Also, SLAs help your support team and give them goals to work on. Thus, it ensures that your support representatives always meet the agreed service objectives and maintain high service standards. An outsource call center like Creafone always uses a ticketing system behind its processes while providing service.
Context of Previous Customer Communications
Microsoft's survey indicates that over 75% of consumers expect service representatives to have visibility into previous interactions and purchases. However, about half of the respondents; agents almost never, or only occasionally, do not have the context to solve their problems effectively and efficiently. By using a ticketing system, agents can access records of past interactions with each customer. That's why they always have all the information they need to ensure a seamless digital customer experience. This way, you don't have to ask customers the same questions multiple times.
Improved Communication with Customers
All interactions are limited to a single shared location; ticket management systems make it easy for both customers and service agents to communicate with each other. Customers can access their ticket via their email inbox and continue to interact with the agent responsible for fulfilling their request. In cases where the meeting needs to be continued by another representative; They will have the entire history of previous interactions. Thus, it will be able to provide a consistent and personalized experience to that customer.
Easy And Efficient Team Collaboration
Ticket systems support greater collaboration among members of your customer support team by using a host of collaboration features such as transferring and forwarding tickets to senior team members, internal messaging capabilities, adding private notes to support requests that are only visible to agents, and more. The shared visibility provided by ticket management systems allows multiple agents to work seamlessly on the same case or exchange critical information that can help resolve issues faster.
Automated Processes And Workload Management
The automation possibilities provided by ticket systems are enormous. First, the software collects tickets from multiple sources and automates the ticket creation process. A ticket is automatically generated when the customer creates a query using a support channel of their choice. Tickets are then distributed and assigned to appropriate departments and agents based on agent workload, expertise, or other predefined parameters. Automation also makes it easy to prioritize tickets according to certain rules and define the order in which tickets are addressed to ensure a timely and efficient solution.
Increased Agent Efficiency and Productivity
Due to the level of organization and automation brought by the benefits of the ticket system, agents can work on cases that match their level of expertise and always know which requests need to be resolved first, based on ticket priorities. This is ultimately; improved agent efficiency, less room for human error, and faster call response times. In case of complex issues, agents can collaborate effectively, leading to faster call resolution.
Monitor Valuable Service Metrics and KPIs
Online ticketing systems typically come with built-in reporting capabilities that allow monitoring of various customer service metrics/KPIs. These can include channel utilization, ticket volume, ticket resolution time, initial response time, SLA compliance, agent activity and productivity, and much more. These metrics form the basis for measuring your overall customer service performance and efficiency, and also provide valuable insight into where you need to optimize your service operations.
Improved Customer Satisfaction
Improved customer satisfaction is another advantage of the ticketing system. When the ticket backlog dwindles, agents can effectively prioritize, collaborate, and resolve requests faster, and when interactions are professional and personal, overall customer satisfaction will eventually increase, allowing customers to experience a better service.
What is the ticket system? (What is the support request system?)
Tickets are requests from your customers, such as questions or suggestions, about the services or products they receive from your company, through various channels.
A ticket is a term popularized by support software to describe the interaction between customers and support teams. When customers have problems, they usually create a support request by sending their request to the support e-mail address shared on the company's website. Representatives in the customer service unit interact with customers by responding to support requests. When the issue reported in the support request is resolved, the request is closed.
What is Ticket System? In Which Fields Is It Used? one
The ticket system, on the other hand, is the software that enables you to communicate with your company in writing on a recorded online platform and to collect support requests in a pool. Relevant departments close the ticket after answering the tickets and informing their customers.
What are the Ticket Types?
Ticket types may vary depending on the ticket system used. Basically, there are types such as question, problem, event, feedback, task and spam. This classification of ticket requests allows you to more easily identify and manage the problems experienced by your customers.
What are the Advantages of the Ticket System?
The ticket system you will use in your company has many advantages. First of all, by using the ticket system, you can organize and classify all the support requests you receive. It is easier to get reports about categorized tickets.
Tickets can come from a variety of channels, such as social media, live chat or messaging, email, or the customer support portal you set up on your company's website. Ticket systems have a unique number assigned to each ticket. Numbered tickets ensure that nothing is overlooked in customer requests, making it a lot easier to search and find specific interactions.
The customer service team quickly resolves customer problems thanks to incoming support requests. Through support requests, many companies can identify their chronic problems and make improvements in their systems.
Customers generally prefer to convey their requests regarding the product or service they receive from a company by calling the company's call center. What most call centers do is to open a ticket on behalf of the customer. However, with a support request sent to the company's contact address instead of calling the call center, the customer creates the ticket, thus avoiding waiting in the call center for the transaction. In this way, the request is forwarded to the company without wasting time in the call center, and unlike the ones waiting in the call center, the support request is queued and finalized more quickly.
What is Ticket System? In Which Fields Is It Used? 2
User Using Ticket System
In Which Areas Is the Ticket System Used?
The ticket system is widely used in the IT industry. For example, support is obtained by creating a ticket from sites that provide services in areas such as e-commerce, hosting-domain.
Ticket systems can basically be used in any area where the customer is located. The most common area of use is the after-sales support and customer service departments of the companies.
Ticket systems, used by most companies in different sectors, enable customer service teams to communicate with their customers more quickly and efficiently, providing a high standard of service.
Project management
ticket system
The ticket system can be used to audit items in project management. Thanks to this system, companies can track who is responsible for the ticket created, when the task was assigned to the responsible person, and how the problem was resolved.
Operations Support
Engaging operations support, especially in critical situations encountered in production environments, can be confusing for many subjects of the process. In such cases, thanks to the ticket system, the stages of the operational process can be followed in an uncomplicated and understandable way.
The Easy Way to Manage Your Support Requests: Infoset
When it comes to efficiently handling support requests they get, ticket management solutions play a significant role. With Infoset, managing all of these procedures is simple. You can manage all of your support and sales channels on a single platform and automate all of your procedures with Infoset's omnichannel customer care solution. Start utilizing Infoset right away to elevate your customer experience and boost your revenue!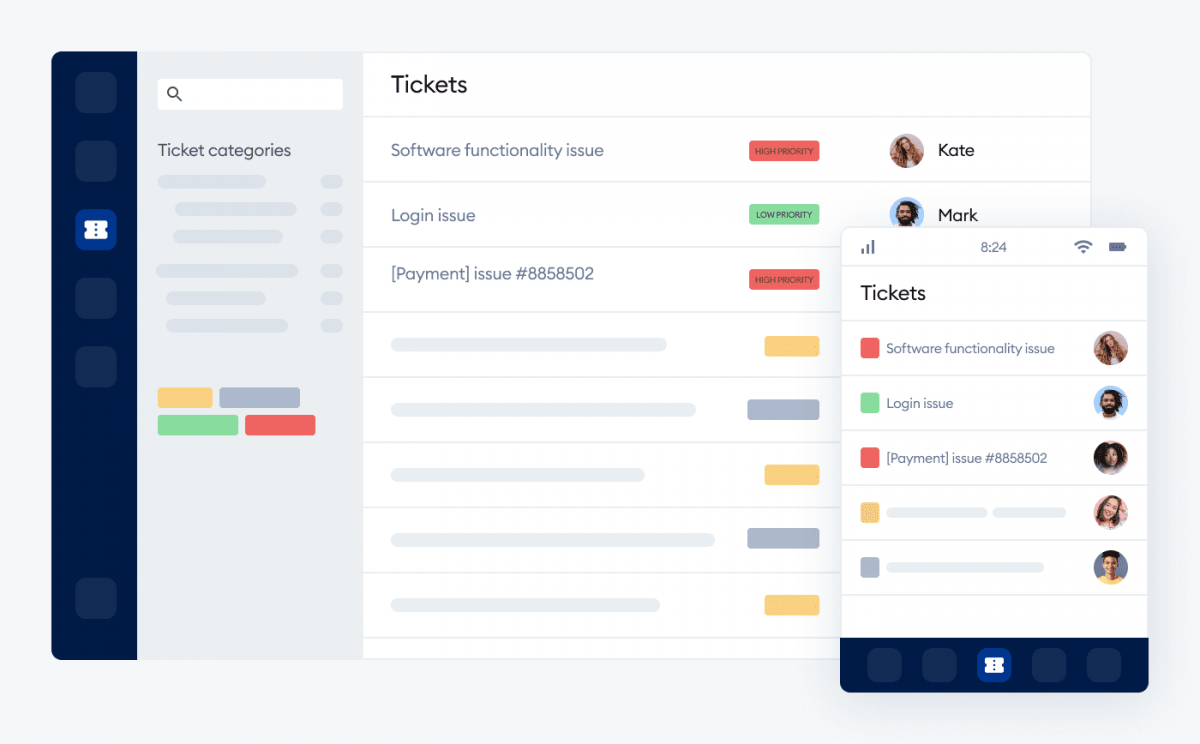 Zendesk
Zendesk is a popular ticket system that provides a variety of functions, such as ticket management, automated ticket routing, customer self-service, multi-channel support, reporting and analytics, and system integration. Additionally, it offers mobile access, which enables you to manage tickets and offer customer support while on the move.
Freshdesk
Another well-liked ticketing system is Freshdesk, which provides a variety of features like automated ticket routing, self-service for customers, multi-channel support, reporting and analytics, and connectors. Additionally, it offers mobile access, which enables you to manage tickets and offer customer support while on the move.
Helpshift
A ticket system created exclusively for mobile apps is called Helpshift. It has a number of capabilities, and also as integrations, self-service for customers, reporting and analytics, and ticket management. Also, it offers mobile access, which enables you to manage tickets and offer customer support while on the move.
A ticketing system is an essential component of the customer service process which helps organizations to improve the quality of their customer support by increasing customer satisfaction. When evaluating ticketing systems, it is important to consider how its features and integrations comply with your organization objectives.
When comparing different ticketing systems, you should consider user interference and ease of use. To be considered good, a ticketing system system should be simple to use and provide a user-friendly interface for creating and updating tickets. . Moreover, it should provide clear, detailed reports that will assist your company in making the right decisions.
Another important factor to consider when choosing a ticket system is the level of customization available. Some ticket systems offer basic customization options, while others provide a more advanced level of customization, allowing you to tailor the system to meet your specific needs. The level of customization offered by a ticket system can impact the cost of the software, so it is important to consider your budget when choosing a ticket system.
What is now valued the most by customers and companies too is the security that is provided in the online world. It is essential to consider whether the system you are about to choose has encryption and secure login protocols to protect sensitive information of your customers.Additionally, it should be regularly updated with security patches and upgrades to ensure that it remains secure.
Finally, it is important to consider the level of customer support offered by the ticket system. A good ticket system should provide easy-to-access customer support, including a knowledge base and a community forum, as well as phone and email support. This can help to ensure that you receive timely assistance when you need it.
A ticket system is a powerful tool that can help organizations to improve the quality of their customer support and increase customer satisfaction.