The content of your website may be of very high quality, and you may think that you are dozens of steps ahead of your competitors. However, the quality of your content is only as good as search engines understand you. The quality of your content doesn't mean much if someone isn't reading your article or reviewing your products.
Google and other search engines want to offer their users only the most relevant and accurate results. SEO ensures that search engines understand your content and associate it with search words and deliver the most accurate result to the user.
Search engines and websites are seen as partners, there is a win-win relationship between them. If you want to exist in the digital world, you must attach vital importance to SEO. We would like to give you some Google user statistics. Google 1st page 1st website gets about 36.4% of all traffic. What about Page 1, the next website? Google gets 12.5% ​​of 1st page 2nd traffic, 9,5% of 1st page 3rd traffic… Google 1st page 10th place gets 2.2%.
Do you think there is a chance for websites that are at the bottom when there is so much competition even at the top of the first page? Here SEO is exactly how your website takes its place in this competition and ensures that it is in the top secrets. As we can see by looking at these rates, SEO is vital for companies in today's world.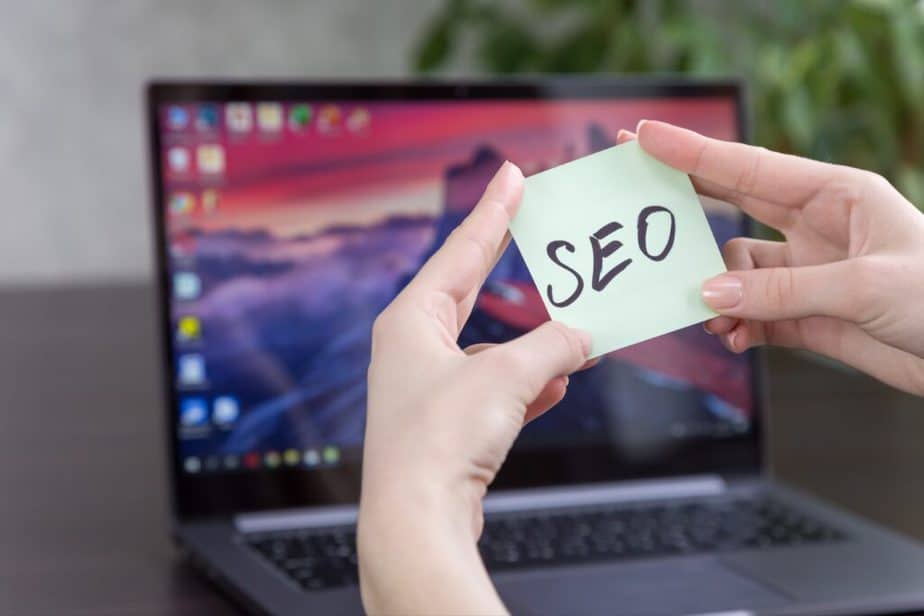 Most Effective SEO Strategies in Malta
Define Goal and Audience  Your goal should always be to be found by your target customers. After customers find you, the goal should be to convert their behavior to sales.
So How Will You Do This?
Whether you're buying a product from a website, offering a service, or wanting people to step into your book and tech store, defining your target and audience will help you create an effective SEO strategy.
What kind of problems do users need help with by first empathizing in order to target your target audience?
What questions do they ask themselves or Google?
How can your business be the target audience's first source or best solution?
Do some research to multiply the number of such questions. Define your goals and strategy, then implement it and continually evaluate the results.
In this way,
You can determine what to change, what to create, and where the time and effort will be.
Being found by your target audience provides the best resource for your company, regardless of the industry. Paying attention to SEO isn't just about increasing resources. More comprehensive, there are a wide range of different benefits for the business. Among these benefits, competitive analysis is the biggest part of it. So review your strategy to make sure you know not only what your customers want, but also what competitors are doing or not doing to meet their needs.
2. Do a Detailed White Paper of the Website
What kind of website do you have?
What type of website do the biggest local competitors have?
A close look at your website will give you opportunities to get a better SEO strategy.
Your goal should be to get to the top of the rankings wherever possible. Demonstrate why your company should be seen as the best option by potential comparison shoppers.
Do whitepapers, things like fast loading times, ease of purchasing products, simple site navigation, and call-to-action (call-to-actions) are important aspects of good web design in terms of user experience.
Run a few scenarios of what your customers are looking for when they come to your website. Better still, set up a UX test or hold a focus group with support from the many sites online. Ask your support sites to run the scenarios for you. Ask for real-time feedback from people unfamiliar with your website or offers.
CRO (conversion rate optimization) can be useful if the site and basic information are available. But technically, you need some guidance on where to use what, where to place it, and what to add. If you are knowledgeable about updating your own website or have a staff that can help implement changes, you can simply request a CRO audit to gather ideas and suggestions.
3. Learn Basic SEO
Learning the basics of SEO is a good strategy. It is very important to learn the basics of optimization in terms of layout, content structure, keyword research and keyword optimization. It always takes a few tweaks to help your website work better as a lead generation tool. Or maybe it's time to give your site a complete overhaul. The basics of good SEO work are knowledge, experience and getting results.
Your website must be accessible and suitable for search engine bots. They crawl each page and determine how to index or where to rank. They take into account many factors during crawling, including metadata, backlink profile, and domain authority. They also take into account what your visitors are doing on the page after landing, such as bounce rate, pages per session, and time spent on the page.
User experience and engagement are equally important for the more technical aspects of optimizing your website. Ask for inbound traffic to turn a lead, a buyer, or be included in your email list so you have an opportunity to market to them in the future. When deciding whether to send you more traffic of the same type, search engines evaluate what the traffic does after it arrives.
Go into your Google Analytics and make sure everything is tracked correctly, spam filters are added, and website traffic looks correct. Check analyzes every week. Start comparing each week, or even year to year, to find trends and insights about where users might get stuck or where you can spend more time optimizing, such as a blog post that keeps seeing visits.
4) Perform Continuous SEO Audit
Search engine optimization is not an exact science. consideration
There are so many factors that are needed and they are constantly changing. Track your site's rankings in web results. Because it will allow you to understand the reason for the reaction you will get at every step you take. In this way, the control of an audit on the site can be provided more easily. So what is the following SEO audit and how is it done? You can get detailed information about the subject by reading our articles on the subject.
After optimizing your website, constantly check conversion rates to understand what kind of experience your visitors are having with the site.
Are they converting to buyers (if you're an ecommerce site)?
Do you have a high bounce rate?
Do you receive solicitations or leads from your website?
If your business isn't e-commerce, do increased website traffic levels equate to increased in-store purchases?
Maintain a constant SEO audit of your site so you can improve quickly. Create an SEO audit plan so you can notice the change periodically.
SEO consists of many things and it is important to implement both on-page and off-page strategy.
Off-page techniques like link building and job citations that drive traffic from highly authoritative websites help your site look relevant. Thus, it can attract qualified traffic to the website.
On-page SEO techniques such as content optimization will help content rank higher in search results, including blog posts and main service pages.
When optimizing your website, try to make it easy for search engine spiders to do a thorough site crawl and understand. Make it clear that your site is relevant to your industry. Content and link building not only increases online visibility, but also improves mobile compatibility, user experience, and page speed.
SEO takes time and is actually a never-ending process as search engines continue to evolve. As soon as your efforts begin to make full headway in this challenging process, a competitor site can quickly top you.
keyword optimization
The right keywords in the right places are important. Some keywords may seem impossible to attract attention. Also, a low search volume keyword you can take advantage of can be a huge success.
On-site optimization
Keyword placement in URL, page title, subheadings, image ALT tags and metadata is essential for on-site SEO optimization as well as creating internal and external links with keyword as anchor text. Also, pay attention to the length of the content compared to competitors in organic search results, and consider what gaps you may have missed. SEMrush and Ahrefs tools offer features to help you find what content you need to add to improve rankings.
Avoid stuffing keywords
In terms of keyword density, quality is more important than quantity. Every page of your website has the potential to drive traffic and ultimately do business, but if the quality of the user's experience is poor, not only will they leave the purchase, but a high 'bounce' rate will sway search engines, based on your target keywords, your site is not worth the traffic.
Off-site optimization
Depending on the type of business, an off-page SEO strategy may include content marketing, social marketing, video marketing, and more. See what your competitors are doing. Know your audience and read SEO strategies relevant to your business for extra help.
6. Do a Competitive Analysis
What is your opponent doing right? How does it collect traffic? What Can You Do to Close the Difference? What are your competitors neglecting, what are they not doing? If you don't have a lot of local competition, take a look at other areas or national companies to help you develop a good SEO strategy.
Tip: Just because there isn't a lot of competition for your business today doesn't mean it won't change later. Many businesses that have moved to the internet world have already started to switch to digital. When doing competitive analysis, constantly evaluating rankings, conversion rate, and competition will not only help you succeed in SEO and digital marketing. It's also important to make sure you continue to appeal to your customers for repeat business and target comparison shoppers.
Other things to consider:
How will people search to find you? Not all of them use computers. Voice search terms are important as well as local identifiers.
Which social media sites are your target customers most likely to use? Some audiences spend more time on Facebook, others on Instagram or Twitter. A solid social media strategy can increase SEO success. Split the test and measure the results to determine if you're on the right track.
Beyond organic SEO, how can you drive more traffic to your website? Some use paid ads. Others write more on-site content and leverage digital marketing services and apps to drive traffic to their websites. Email marketing or newsletter marketing can be helpful, as can posts about specials, discounts, and new products on social media sites. In addition to SEO, search engine marketing and other paid advertising campaigns can pay off.
Reviews / online reputation are very important in certain businesses, for example restaurants and home services. Monitoring your online reputation is an essential part of your SEO and online marketing strategy. Don't just optimize the word 'Best', but try to build a reputation as the best.
7. Make SEO Analysis Your Continuous Strategy
Do an SEO analysis to see what is going well and what needs improvement. Not lagging behind trends, competition and SEO techniques
Identifying the target audience: If you want your site to have high SEO power, perhaps the most important step is keyword work. You can determine your target audience through keyword research. The keywords users enter into search engines to find sites like yours are vital to SEO strategy. Here are some of the things you can do about it:
-Do not use very general keywords at the beginning. Broad words may have a weak relationship with the content of your site.
-Type general keywords into the search engine and see the ones suggested by the search engine. Try to integrate them into your content.
-Generate a list of keywords with Google Sets, then identify the most searched words with Google Insights, Wordtracker and Google Adwords Keyword Tool.
– Observe which keywords your competitors choose on their websites.
-Basically, in the keyword selection business, consider that the sites that are in high demand, but that are included in these keyword results, are preferred with low competition.
Make navigation easy with appropriate links: The best SEO technique lately is a combination of user experience and technical SEO. Identifying the most important pages for your website and adding the most appropriate internal links will not only help these pages rank better in searches, but also make it easier for the user to find the necessary pages. Another benefit of investing time in this topic is that if your internal linking processes are done correctly, your potential customers will be able to access these pages more easily, which will help your business develop.
Keep your content relevant and lively: Search engines will visit your site from time to time and check if your content has changed. If the search engine continues to see that your content remains the same, it will reduce the frequency of visits to your site. Therefore, it is important that you constantly add appropriate content to your website and add links. This helps increase your suitability for crawling bots to index your site every time. Again, we can list a few tips about this as follows:
– Avoid using the same content on pages.
– Add searched words to your page content.
– Create original content that is not available on other sites.
– Add content such as news, articles related to your site, or even create a blog page about your products or services.
If you are new to this business, do not forget that getting SEO consultancy service is very important for you to take the right steps.
KEYWORDS IN SEO
We are sure that when you do SEO research, you have seen or heard a term called "Keywords" a lot. Keywords are the best way to promote your site to Google and other search engines and form the basis of SEO. The usage rate of Google in our country is over 90%. In other words, we can say that Google sets the rules in our country. Google and other search engines always aim to improve the user experience. They are constantly working for this.
Keywords are vital to get your site to rank higher in target words. Correctly determined keywords are very important for successful SEO. If this basis is wrong, it will cause the ongoing process to fail. First of all, you should know your potential visitors well. So you can find the most effective words that they will reach you. You cannot use hundreds of keywords for your site. That's why you should choose specific words very carefully. While doing this, you should consider your competitors and work hard on the points they missed in order to get a few steps ahead of them. An effective keyword analysis is a very difficult and demanding task. Keywords should be chosen according to 3 important features. These; frequency of use, competition and relevance to content. Words that have the potential to be keywords should be analyzed very well and keyword volumes should be learned. Competitors should be analyzed very well and even competitors should be used when doing keyword research.
WHY SHOULD COMPANIES CARE ABOUT SEO?
As we all know, with the developing internet world, it has become a necessity for businesses to take their place in the digital environment. If we talk about some of the benefits of the internet to companies;
It provides the opportunity to communicate with customers instantly and more effectively.
Companies find the opportunity to reach their businesses not only in their region but also to wider audiences thanks to the internet.
Firms can promote at much lower costs.
Customers can perform a more detailed review of products and services.
Product stock, product tracking, complaints, customer analysis, etc. data flow can be provided easily and quickly.
In order to benefit from these benefits mentioned above, an effective website operation is needed. You may have a great website, but someone needs to visit your website.
When visitors need something about any product or service, they write their needs, namely "Keywords", into search engines. A very, very large proportion of visitors only examine the first page of results of the search engine; if they can't find what they're looking for, they create another keyword combination and perform a new search, they are not very willing to look at the second page. If you have done good SEO work, visitors will find your website. As the visitor traffic of the website increases, a natural population is formed on the site, which increases your income and decreases your advertising expenses. In addition, SEO allows you to make a permanent advertisement. For example, online stores are the biggest and most profitable stores of ready-made clothing companies currently serving.
What Does It Do?
SEO is an English word. Search Engine Optimization is the abbreviation of the words. It can be defined as the whole of the work done to have web pages in good positions on a word-by-word basis in Google and other search engines. Although I explain this with examples in my content, I wanted to share it because it is a frequently asked question.
What is External SEO?
External SEO, as the name suggests, are factors that affect our web page from the outside. Backlinks, Google ADS, Social Media Advertising and Account Management, Mail and SMS submissions are included in the external optimization class.
Text and Visual Content Optimization
The texts we use in our site content are among the most important issues to be original and pleasing to the readers. In addition, articles that do not contain spelling mistakes, comply with grammar rules and pay attention to punctuation marks form the basis of quality content. The more quality and natural the articles we have prepared for our site, the more people will read our content and spend time on our page. The visuals we use on our pages are at least as important as our text content. The authenticity and quality of the visuals we use throughout the site will both increase the quality score of our site and leave a unique impression in the eyes of our visitors.
Site Speed ​​and Clean Code Structure
Most internet users are leaving a slow website quickly. Rapid users leaving your site significantly reduces your site quality score. In addition, search engine bots want to encounter a clean and easily crawlable code structure instead of a complex and unnecessary code structure while crawling our site. See more for site acceleration techniques.
User-Friendly Website
Let's take a little bit of user experience, which is perhaps one of the most important building blocks of advancing in Google. In internet projects, issues such as misleading visitors, unforgettable and long URL structures and poor quality designs, besides not being user-oriented, also attract the attention of bots and reduce our quality. To give an example of a user-friendly website, layout and accessibility should be among our main items. People of all ages and levels should be able to use our site easily. We can say that projects that attach importance to font fonts, site colours and internal links will succeed step by step. Actually, the main purpose of SEO is to provide quality and useful information to users. It should not be forgotten that a user-friendly website is also search engine friendly.
Search Engine Tags
Search engine meta tags, which are the technical subject of on-site SEO, ensure that our site is perceived well by bots and is indexed correctly in search results. The main parameters shown between meta tags are; There are tags that signal bots such as page titles and descriptions, language tags, correct page address representation. With the correctly structured meta tags, Google can navigate and perceive our pages better. For this reason, we can say that it is an important SEO criterion that directly affects our rankings for meta tags.
When using these labels, you should definitely get professional support. Incorrect tagging causes sites to be perceived incorrectly and even index losses. If you want to see your current meta tag errors or omissions, you can use our free analysis tool.
What is Backlink?
A backlink is when a website provides a link to another website as a reference. We can consider this situation as follows; If a website that is safe and popular by Google recommends you on its site and recommends it to its users, Google will have confidence in your site as well. Thus, by providing popularity, both traffic and awareness will be provided to our site. With the latest Google updates, the backlink issue emerges as a subject that needs to be treated more precisely. Some websites that manipulate this structure can be detected by Google and fall into the filter in search words. Therefore, unnatural and paid backlinks pose a danger for projects.
How should a natural backlink be?
Actually, the answer to this question is very simple. If you provide good content, your site visitors will easily want to reference the information they have obtained from you. In this case, you will have gained a natural link. However, the biggest and most critical mistake made starts here. SEO-related people expect to rise with paid links from intense and poor quality news sites since they see all work as taking links. When this manipulation occurs in a short time, they are deleted from the search results. Instead of such links that are not purchased naturally and paid for, links should be gained naturally by preparing quality and up-to-date content.